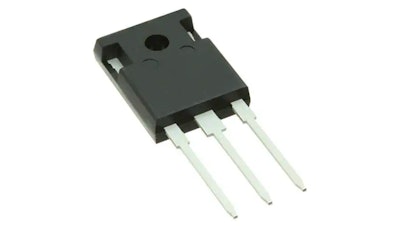 Digi-Key Electronics
THIEF RIVER FALLS, Minnesota, USA – Digi-Key Electronics, which offers the world's largest selection of electronic components in stock for immediate shipment, has collaborated with Infineon Technologies, a world leader in semiconductor solutions, as part of its Power Focus campaign. Digi-Key is offering Infineon's 7th generation of TRENCHSTOP IGBTs, which are designed for variable speed drives, and EiceDRIVER gate driver ICs, including low side drivers, level-shift drivers and isolated drivers.
As part of the campaign, Digi-Key will host a free virtual webinar on Thursday, Oct. 14, at 11 a.m. CDT to showcase Infineon's new IGBT7 technology. Webinar attendees will learn more about the IGBT7 portfolio and the flexibility it offers for a variety of applications.
Based on the new micro-pattern trench technology, the TRENCHSTOP IGBT7 chip performs with much lower static losses compared to the IGBT4. Its on-state voltage is reduced by 20 percent, which brings significant loss reduction in the application, especially for industrial drives, which usually operate at moderate switching frequencies. The power modules feature a maximum allowed overload junction temperature of 175°C. Additionally, they are marked by softer switching and an improved controllability.
The new 1200 V TRENCHSTOP IGBT7 modules are designed with the same pin out as TRENCHSTOP IGBT4 modules, which supports manufacturers in reducing their design efforts. More importantly, the new modules enable a higher output current in the same package, or the similar output current in a smaller package. As a result, designers can realize more compact inverter designs where needed. All module types are equipped with Infineon's reliable PressFIT mounting technology for low ohmic resistance and reduced process time.
Every switch needs a driver, and using the right driver makes a difference. Together with the TRENCHSTOP IGBT7, the EiceDRIVER family of gate driver ICs offers a wide range of output current options (from 0.1 A to 14 A) and different protection features like DESAT, Miller clamp, OCP, shutdown, integrated bootstrap diode, and isolation.
"Infineon is very happy to partner with Digi-Key on their new platform for the first customer webinar featuring Infineon's IGBT7 products," said Jennifer Anthony, senior distribution marketing at Infineon.
"By working closely with Infineon, we aim to bring new products to our customers to provide versatility across applications and industries such as commercial construction, agriculture, solar, wind and more," said David Stein, vice president of global supplier management at Digi-Key. "We find that our customers rely on Infineon's IGBTs for their power, density, and performance, and we are proud to partner with them in our Power Focus campaign."
To register for the webinar on Thursday, Oct. 14, please visit here. For more information about Infineon and to order from their product portfolio, please visit the Digi-Key website.