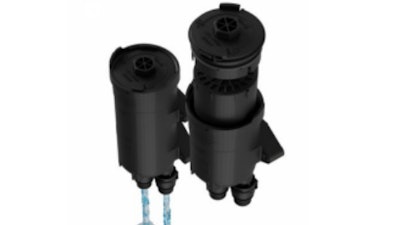 Hengst
Hengst (Münster, Germany) announced a modular set of various filtration solutions for fuel cells. The specialist in filtration and fluid management presents products for coolant and air filtration, and in the area of system integration, a water separator for anode recirculation.
Blue.iox ion exchanger:
Reduces the initial ion concentration in the coolant circuit

Offers high level of protection with minimum maintenance

Design of the filter cartridge with axial filter flow and the special mixed bed resin system for cation and anion exchange ensure high filtration efficiency over the entire service interval

Reduced ion concentration in the coolant circuit

Screw cap allows the filter cartridge to be replaced cleanly without special tools
Integrated shut-off valves prevent coolant from escaping
Cathode air filter system:
Protects the drive even under harsh operating conditions

Protects the fuel cell components from particles as well as harmful gases

Particle filtration can be applied directly with gas filtration in a combination medium
Pleated particulate filter medium used as a separate filter stage upstream of the gas filtration
Application areas of the filter system include trucks and buses
To prevent liquid water deposits and ensure the continuous effective operation of the fuel cell, proper water management is crucial. The solution from Hengst: a new type of separator module for anode gas recirculation. It combines the function of droplet water separation and gas drainage with an innovative valve configuration of the purge and drain valve.