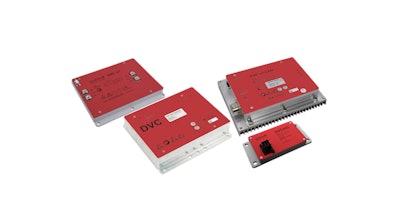 Deutronic
Spartanburg, S.C. – July 26, 2023 – With demand increasing for electric and hybrid technology advancements to benefit the industrial and off-highway vehicle industry, Deutronic USA (booth #818) will introduce a new line of DC/DC converter products for use in rigorous applications to the North American market at the upcoming iVT Expo.
The event takes place August 23-24 at the Donald E. Stephens Convention Center in the Chicago suburb of Rosemont, just minutes from O'Hare International Airport. For Deutronic USA general manager Zubin Verma, the show represents an opportunity to showcase his company's state-of-the-art component technology to meet the constantly rising power requirements for today's off-highway electric vehicles.
"iVT is a relatively new show to the North American market, so the timing is right to exhibit this year as we expand Deutronic's operations here in North America," said Verma, who is based in Spartanburg, South Carolina. The company's intelligent power electronics and test systems are used by leading automotive and commercial vehicle OEMs worldwide.
"Our new line of DC/DC converters are well suited to the electrification needs of these off-highway commercial vehicles," he added. "Their compact design, combined with high power density, are very robust and protected against rough environmental factors such as vibration, shock, high temperature variations including humidity, and aggressive atmospheric conditions."
One of the converters Deutronic will feature at iVT was named the 2021 Product of the Year in the Power category by Elektronik magazine. The DVCHx3 converter is part of a series designed for hybrid and electric vehicles. With an interlock function, it also offers short-circuit, overtemperature and no load protection or self-protection features. This converter is rated IP65, IP67 and IP6K9K for dust and waterproof protection in adverse conditions.
Another feature of the DVCHx3 converter is cooling via the contact surface. Unlike purely liquid-cooled systems, its cooling system can be flexibly adapted to the application. In addition to the cost-effective contact cooling variant, Deutronic also offers solutions with heat sinks or cold plates.
Verma indicated the variety of Deutronic's DC/DC converters can provide the right solution for any off-highway or commercial vehicle situation.
"We invite everyone to visit with us in booth 818 to discuss their power requirements and complexity of their unique applications," concluded Verma. "We manufacture a wide spectrum of systems so we can be flexible with customer-specific needs, and even handle small production runs for special devices and other customized solutions. We are a good partner for OEMs throughout their electrification product development cycle."
About Deutronic Electronic
Deutronic Electronic is a global, family owned company that develops and manufactures intelligent power electronics and test systems for leading OEMs worldwide. Founded 40 years ago in 1983, corporate headquarters are located in Landshut, Bavaria (southeastern Germany), and the company operates a worldwide service network with offices in the United States (Spartanburg, S.C.), China and the Czech Republic. For more information, please visit the website