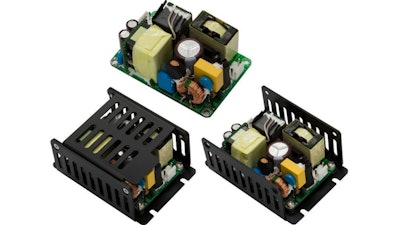 Sager
MIDDLEBOROUGH, Mass. – Sager Electronics, a leading North American distributor of interconnect, power, electromechanical and thermal solutions, is now stocking Power Partners PPWAM150 series single output AC/DC converters.
The PPWAM150 series single output AC/DC converters come in a power dense 2"x 3" platform. Available in eight different standard output voltages that span most of the SELV range while offering a continuous 150W.
The series offers both class B emissions compliance and DoE Level efficiency, allowing for a wide variety of applications. With efficiencies up to 92%, these single output AC/DC converters operate seamlessly. The series is available in open frame, U-Channel, and enclosed versions.
Suitable for BF applied part applications and DoE Level VI requirements, the PPWAM150 Series AC/DC Converters are ideal for medical and industrial applications.
For more, visit https://power.sager.com/manufacturers/power-partners/power-partners-ppwam150-series-single-output-ac-dc-converters.