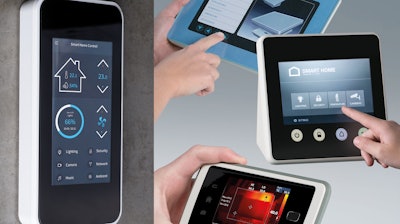 OKW
OKW reports increasing demand for its advanced touchscreen enclosures: wall-mounted Smart-Panel, low-profile handheld Slim-Case, square-plan control center Protec and multifunctional Interface-Terminal.
Collectively, all four cover a wide range of applications including:
IIoT/IoT

Industry 4.0
Smart factory
Measuring and control
Medical and laboratory technology
Offices
Gateways
Automation
Data systems engineering
Wireless communications.
The new Smart-Panel houses edge-to-edge touchscreens for building services, electrical installations, smart home and security systems. These elegant and discreet enclosures can be fitted to standard flush-mount cavity wall boxes. With no visible fixing screws, they blend seamlessly into modern residential, commercial and industrial environments.
The ergonomic new Slim-Case (IP 54/65) accommodates touchscreens up to 4" (10cm) for a wide range of high-mobility environmental technology and safety engineering applications. Contoured sides, bevelled rear panel and optional soft-touch
intermediate ring make it comfortable to hold and operate. The virtually frameless design houses low-profile components and assemblies in a compact space.
Protec (IP 65 optional) has an ergonomic sloping front panel and is available in three sizes – all of which can be customized to house a touchscreen. This modern housing can be used on a table-top or wall mounted to suit the specific application.
Modular Interface-Terminal (IP 54 optional) can be ordered in a range of configurations: mobile handheld units; sloping front table-top or wall mounted units; flush-mount units for fitting in walls or front panels for harmonious integration in visually sensitive locations such as historic buildings.
For more, visit https://www.okwenclosures.com/en/Products/Plastic-enclosures.htm.