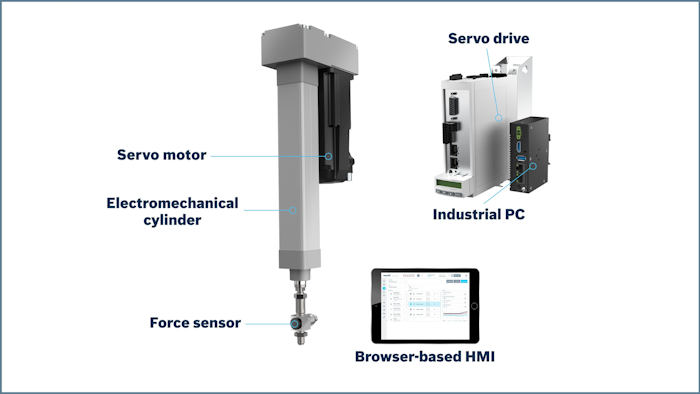 Bosch Rexroth
Bosch Rexroth's new, innovative Smart Press Kit is designed to meet future industrial requirements and provides a complete mechatronics package that is immediately ready for use across an extremely wide range of standardized pressing and joining applications.
The modular kit, consisting of mechanical components, electrical components and software, simplifies product selection and configuration as well as commissioning. The Smart Press Kit can be connected via open interfaces and conveniently monitored on a tablet during operations. This maximizes transparency, reduces downtime and increases productivity.
This easy, fast and attractively priced solution is specially designed for pressing and joining processes in the low force range of two to 30 kN. The modular system consists of perfectly synchronized hardware and software components: an electromechanical cylinder and power sensor, servomotor, drive controller, industrial PC and browser-based HMI software based on HTML 5.
There are numerous potential areas of application for the new Smart Press Kit – it is ideal for applications where simplicity, fast commissioning and price are important criteria. These include press-fitting bearings in housings, crimping cables and hoses and inserting (for example, integration of magnets in lamination stacks). 
Furthermore, the Smart Press Kit is cost-effective at forming processes, such as bending, embossing and deep drawing in the plastics industry. 
The system is also suitable for measurement and test procedures as well as test stands across an extremely wide range of sectors. 
The Smart Press Kit is a versatile solution and can be used as a standalone or integrated into superior systems via field bus. As such, Bosch Rexroth is setting new cross-industry standards for easy pressing and joining applications.
To learn more, please visit www.boschrexroth-us.com.