Laird Thermal Systems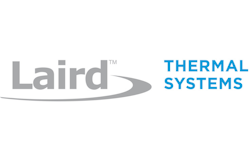 Laird Thermal Systems
Laird Thermal Systems has developed a large capacity Direct-to-Air Thermoelectric Assembly that offers greater cooling capacity than traditional thermoelectric based systems.
Designed for refrigeration of medical chambers and analytical storage compartments, the DA-280 TEA is an alternate to smaller compressor based systems.
Offering more than 280 Watts of cooling power, the compact DA-280 offers reliable operation with low maintenance costs and is environmentally friendly.
The DA-280 Direct-to-Air TEA:
Operates on 24 VDC

Uses custom thermoelectric (Peltier) modules

Uses premium grade fans with low noise

Has superior barrier protection

Has optimized hot side heat exchanger
For more information on the DA-280 TEA, visit https://www.lairdthermal.com/resources/datasheets/da-280-24-02-direct-air.