Automation Direct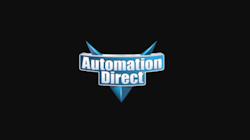 Automation Direct
The AutomationDirect mechanical power transmission lineup now includes larger 325 frame size IronHorse cast iron worm gearboxes.
These 3.25" input to output shaft distance gearboxes are available in ratios of 10:1, 15:1, 20:1, 30:1, 40:1 and 60:1, with outputs in left hand shaft, right hand shaft, dual shaft, and hollow shaft. The 325 gearbox C-face interfaces match NEMA 56C, 145TC, and 182/4TC motor frame sizes.
Constructed of cast iron one-piece housings; the worm gearboxes are designed to:
Change drive direction by 90 degrees

Drive a load at a reduced fixed ratio of the motor speed

Increase output torque by the same ratio
IronHorse gearboxes are mountable in any direction, except motor pointing up.
To learn more, visit www.automationdirect.com/worm-gearboxes