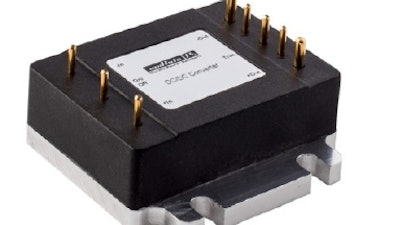 Sager Electronics
Sager Electronics is now stocking Murata Power's IRS-Q12 encapsulated sixteenth-brick converters.
Murata's IRS series makes another dramatic size shrink down to a "sixteenth-brick" width while still retaining a high power output and full 2828 Volt DC isolation. The converter family accepts 9 to 36V DC inputs and delivers fixed outputs regulated up to within /-.125%. Excellent ripple and noise specifications assure compatibility to circuits using CPU's, ASIC's, programmable logic and FPA's. No minimum load is required, and the synchronous flyback topology yields high efficiency for minimal heat build-up and "no fan" operation.
These IRS converters are ideal for:
Industrial and railway applications

Data and telecom applications

Cell phone towers

Data centers

Server farms

Network repeaters
For more, visit www.sager.com.