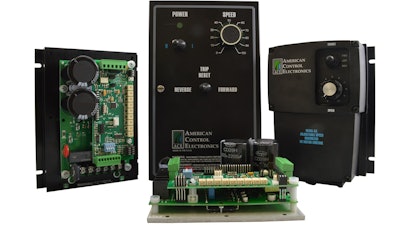 American Control Electronics
American Control Electronics introduces the PML Series, a new family of versatile, feature-rich, configurable controls for brushless DC motors.

PML drives can control motors that range from 90 to 280 VDC, up to 5 amps/1.5 HP, using either 115 VAC or 230 VAC line sources. On-board trim pots allow operators to quickly set maximum and minimum speeds, acceleration and deceleration rates, motoring and regening current limits, as well as the proportional and integral feedback gains.

Series highlights include:
UL 61800-5-1 listed (NOTE: this standard will obsolete UL 508C in 2020)

NEMA 4X packages available in both steel and plastic

Able to convert 115 VAC input into 280 VDC output.

Accepts floating or grounded signals 0 ± 5 VDC, 0 ± 10 VDC or 4-20 mA

Diagnostic LEDs for power and status

Thermally protected: Drive recognizes when overheated as a result of overload

Hall effect sensors: 120°, 5 VDC, 75 mA combined

Separate current limits for operation and regen braking

16-bit microcontroller on board, ready for mission-specific configurations
For more information, visit https://www.americancontrolelectronics.com.