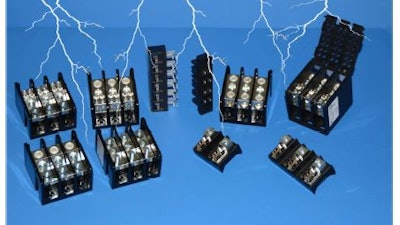 BlockMaster Electronics
BlockMaster Electronics announces the addition of several new high-power terminal blocks to its catalog.
The HP series is rated 600 volts, with amperage ranging from 90 to 380, available with 1, 2, or 3-poles. The new terminal blocks can also be used for lighter power applications, and therefore have extended utility as a "one size fits all" product line.
New products lines are:
HP-ATA-115B – 1 to 4 poles Modular, DIN Rail or Panel Amount (600V, 115A)

HP-ATB-175B – Single Pole DIN Rail or Panel Mount Distribution Series (600V, 175A)

HP-ATA-90 – Dead Front Power Blocks (600V, 90A)

HP-RTG-C – 3-pole DIN Rail Connector Power Blocks (600V, 90A)
Ideally suited for:
Power supplies

Standby generators

Motor controls

Industrial controls

Chillers

Switch gear

HVAC equipment

Solar & wind power

Pump control panels

Lighting panels

CNC machines
For more product information, visit www.blockmaster.com.