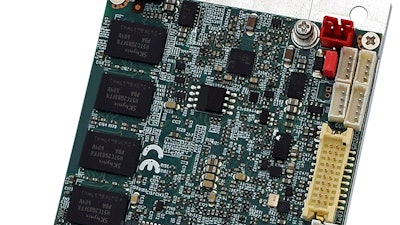 WinSystems Inc.
WinSystems debuts its tiniest-yet industrial SBC based on the Intel Atom E3800 processor family.
The rugged ITX-F-3800 measures 3.31 inches by 2.17 inches but incorporates an extraordinary amount of embedded computing performance and versatility. Leveraging the compact size of the Femto-ITX form factor, this single board computer includes Ethernet, USB channels, a serial port, video and more to support design needs.
This miniscule package includes the most frequently used functionality for IIoT and display capabilities for Human Machine Interfaces.
Key connectivity and configuration features include:
10/100/1000 Ethernet

One USB 3.1 and two USB 2.0 channels

RS-232/422/485 serial port

General purpose I/O

Mini-Card and M.2 connectors provide optional expansion

Header-based connectors allow use within small boxes or containers
For more information, visit www.WinSystems.com.