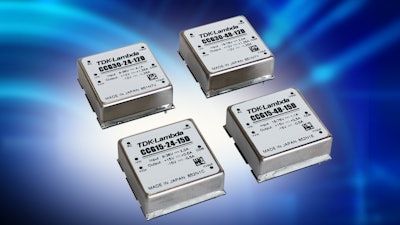 TDK Corp.
TDK Corp. announces the introduction of the TDK-Lambda 15W and 30W rated dual output CCG DC-DC converters.

Operating over a 4:1 input range, the highly efficient products are enclosed in a 1 inch by 1 inch six-sided shielded metal case.

The CCG-D models are available with +/-12V or +/-15V outputs which can be used in series to provide a single 24V or 30V output.

Both can operate from either a 9 to 36Vdc or 18 to 76Vdc input.

The wide range enables inventory reduction programs as the converters can operate from either 12V and 24V or 24V and 48V nominal inputs without the need to stock two parts.

With operating efficiencies of up to 92%, the CCG series will operate in ambient temperatures from -40 to +85 degrees C with a maximum case temperature of +110 degrees C.

Applications include data and telecommunications, process control, broadcast, battery powered and test and measurement equipment.

More information can be obtained at https://www.us.tdk-lambda.com/lp/products/ccg-series.htm.