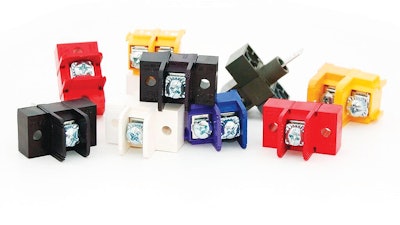 BlockMaster Electronics
BlockMaster Electronics introduces an expanded offering to its popular "Jelly Beans" line of colorful terminal blocks.

The new modular JB6 Series features thermoplastic terminal blocks in multiple colors for ease in identifying terminations and preventing costly field wiring mistakes. BlockMaster also offers screen printing to mark alphanumeric characters on its JB6 Series terminal blocks to further simplify field wiring.


Molded of sturdy thermoplastic and offered with 3/8" centers.

Blocks are wire-ready, with raised screws for 12 AWG to 22 AWG wire.

Housing is thermoplastic and the terminal is made of brass — bright tin over copper plating.

Operating temperature range is 130°C max.
For more information, visit www.blockmaster.com.