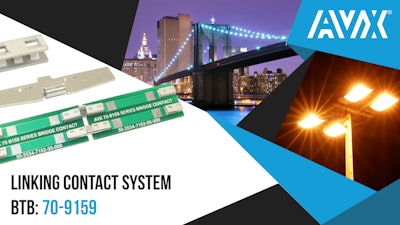 AVX Corporation
AVX Corporation developed a three-piece STRIPT contact system for linear LED and coplanar PCB connections in off-road vehicle lighting applications.

The 70-9159 Series linking board-to-board contact system is designed to absorb broad end-to-end mating tolerances, handle up to 20A of continuous current and exhibit robust resistance to extreme shock, vibration and temperatures.

    •    Consists of two low-profile, single-position and high-spring-force surface-mount C-clip contacts and a linking bridge contact

    •    C-clip contacts are made of made of fatigue-resistant phosphor bronze, have multiple spring-finger contact points that maintain high mating forces and ensure uninterrupted connections, and can be placed close to LEDs without interference

    •    Integral dimples on the bridge contact provide positive retention in the C-clip contacts to prevent it from backing out, and a centered tang prevents it from moving side to side.

For more information, visit http://www.avx.com/products/connectors/board-to-board/coplanarlinear/linking-contact-system-btb-70-9159/.