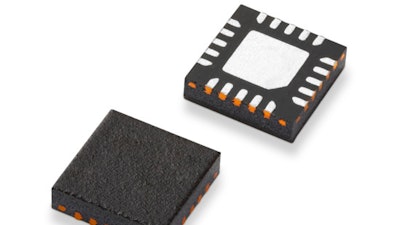 Littelfuse
Littelfuse, Inc., an industrial technology manufacturing company empowering a sustainable, connected, and safer world, announced the latest addition to the eFuse Protection ICs product line of versatile circuit protection devices, the LS05006VPQ33.This new eFuse Protective IC's innovative design protects USB Type-C ports against short circuits, overvoltage, and electrostatic discharge (ESD). The LS05006VPQ33 is a highly integrated protection IC for Type-C PD Vbus short to CC/SBU with 28 V max and 8 KV IEC-61000-4-2 ESD capability. View the video.The eFuse LS05006VPQ33 Protection ICs are ideal for use in a wide range of USB Type-C applications, including:
Notebooks,

Desktops,

Monitors,

Industrial PCs,

Point of sales,

Smartphones,

Tablets, and

USB Type-C PD docking stations.
"The LS05006VPQ33 is an extension of the Littelfuse eFuse protection IC solutions, and it is our first eFuse to support 20 V short, overvoltage, and system ESD protection for signal pins," said Bernie Hsieh, APM of Protection Semiconductor Business at Littelfuse. "The LS05006VPQ33 provides better reliability, longer life, lower repair costs, and compact product size. It also works well with the LS2406ERQ23 eFuse for Vbus 20-volt, 5 amp protection."
The LS05006VPQ33 design solves the critical problem of protecting low-voltage silicon circuits in USB Type-C controllers from overvoltage, short circuits, and ESD strikes. Many USB Type-C products don't meet the Type-C specification, and some adapters that only provide 20 V to Vbus can cause short circuits due to pin issues, twisting, or moisture. Without protection, downstream low-voltage circuits can be damaged. The LS05006VPQ33 ensures that downstream low-voltage circuits are safeguarded against overvoltage and IEC61000-4-2 ESD strikes.
In addition to better reliability, longer life, and lower repair costs, the LS05006VPQ33 also offers other competitive advantages. It supports higher Vmax (28 V) and higher ESD rating at SBU with 8 KV ESD contact compared to other solutions on the market. These benefits make it the perfect solution for electronics engineers looking for a reliable and efficient USB Type-C port protection solution.
The eFuse Protection ICs are available in tape and reel format in quantities of 5,000. Place sample requests through authorized Littelfuse distributors worldwide. For a listing of Littelfuse distributors, please visit Littelfuse.com.
Additional information on the latest series release is available on the eFuse Protection ICs product page. For technical questions, please contact Bernie Hsieh, Assistant Product Manager, Protection Semiconductor Business, [email protected].