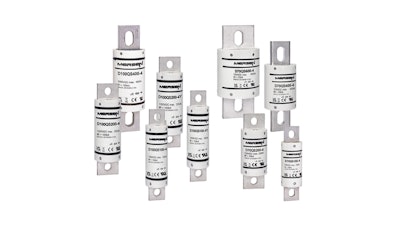 Mersen
Mersen, a global expert in electrical protection and control for electrical power systems, announces its latest DC (Direct Current) high performance round body fuses, D100QS and D70QS high-speed fuses.
D100QS and D70QS high-speed fuses are Mersen's next evolution for the protection of high-power conversion applications for those industries shifting to DC systems. DQS series fuses are specifically designed to reduce the I2t, peak let-through current, and arc voltages during fault conditions to protect applications such as battery charging systems and other DC components like relays and contactors.
Fuses in the DQS Series include:
• D100QS Series: 50-300A, 1000VDC, L/R ≤1ms, 100kA IR, MBC<3kA
• D70QS Series: 50-600A, 700VDC, L/R ≤1ms, 20kA IR Applications include:
• High-power battery charging and management systems protection
• Energy Storage Systems (ESS)
• Electrical Energy Storage (EES)
• Battery Disconnect Unit (BDU)
• Battery pack protection
• DC fast-charging station for EV applications
• Backup protection for DC relay/disconnector/switch
• Protection of UPS and inverters
Electrification in construction, marine, agriculture, manufacturing, mining, transportation, and other industries is a critical trend in cleaner energy. Mersen D100QS and D70QS series fuses were developed in response to market need for DC fuses in these industries. The D100QS and D70QS series provide unique performance characteristics allowing customers to safely protect their equipment and personnel.
For more information about Mersen, visit mersen.com.