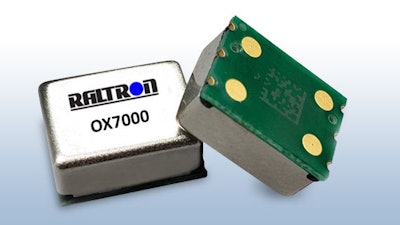 Raltron
Raltron, a global leader in high performance frequency management components and antenna products, is enabling communications networks around the globe with its OX7000 Series, the smallest SMD oven controlled crystal oscillator (OCXO) available on the market. At only 9 mm x 7 mm, the OX7000 Series features superior temperature stability in an ultra-small package and is designed for all aspects of 5G wireless infrastructure, network interface cards, transmission, and base station application requirements.
The OX7000 Series covers a frequency range from 10.000 MHz to 40.000 MHz with a power supply voltage of 3.3 V at 150 mA steady state. Housed in a hermetically sealed package for improved reliability, these OCXOs offer a quick warm-up time of 3 minutes, a low phase noise of -158 dBc/Hz at 10kHz offset and HCMOS output levels. With a very performant frequency stability of +/- 20ppb -40/85, the OX7000 Series delivers high reliability in a compact package for transmission, precision instrumentation, broadcasting, and utility metering infrastructure applications.
"Built to support the rapidly growing demand in bandwidth and 5G infrastructure, the OX7000 Series provides the best possible stability in a 9x7x4mm package. This high stability OCXO is ideal for applications that require low phase noise such as network interface cards" said Sasha Wolloch, President at Raltron.