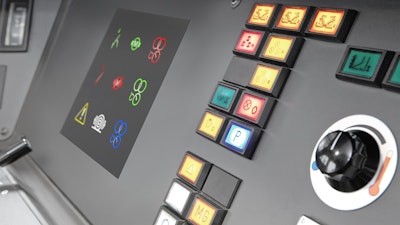 EAO
EAO, the expert partner for innovative, intuitive and reliable Human Machine Interfaces (HMIs), introduces a new HMIS Multi-Legend Alarm Indicator Panel. Designed for drivers' cabs, this modular HMI simplifies fault monitoring contributing to increased safety within railway applications.
With its extremely flexible and modular design, the HMIS Multi-Legend Alarm Indicator fulfils a broad range of application needs. The panel size and the symbols are customizable and different illumination colors are available. The flexible number and arrangement of the symbols, as well as the ultra-thin mounting depth of less than 8 mm thickness, ideally fit to driver desk and control cabinets, as well as in other railway application where the space envelope for the status indicators is limited.
Each alarm indicator is electrically independent to guarantee high operational safety, redundant illumination on each element provides increased reliability. The complete system of indicators is controllable by bus interface, digital IO or other interfaces, which allows easy and effective integration with existing systems. In addition, the indicator modules can be provided with dimmable illumination. The lamp test functionality is effective and immediate with a capacitive touch sensor included in the alarm panel. With a range of different indicator tile dimension, grid spacings, and numbers of tiles per module, this is a truly flexible status monitoring system.
Mounting of the indicator panel can be adapted to the customer needs with adapters or directly with mounting studs.
The Multi-Legend Alarm Indicator Panel conforms to EN 45545 and offers connectivity with up to 36 tiles in each module and is suitable for 24 and 110 VDC systems. Its modular construction ensures short engineering and production lead-times even for new product configurations.