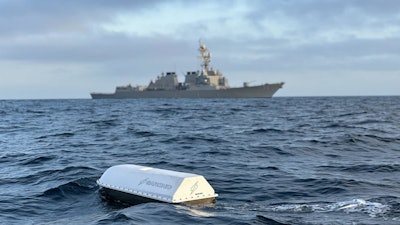 Saronic
Saronic, a maritime autonomy company focused on surface vessels, announced today a $55 million Series A funding round led by Caffeinated Capital, with participation from 8VC, U.S. Innovative Technology Fund, Andreessen Horowitz, Lightspeed Venture Partners, Point72 Ventures, Silent Ventures, Overmatch Ventures, Ensemble VC, and Cubit Capital. This significant investment underscores Saronic's commitment to addressing critical capability gaps at sea through attritable, autonomous platforms. With this raise, Saronic will accelerate research and development while expanding in-house manufacturing capacity for rapid production.
The need for these autonomous surface vessels is clear. To outpace China, America must start building a large fleet of autonomous vessels today. Saronic provides a state-of-the-art, purpose-built solution for the United States and its allies, seamlessly integrating software and hardware to optimize autonomous missions, enhancing the range, capability, and survivability of the naval fleet and the warfighter.
Saronic is the only company that can deliver this critical technology, filling a gap where shipbuilders, traditionally focused on manufacturing large naval ships, lack the capacity and expertise, while other vendors provide legacy platforms and struggle with production at scale.
The company is currently developing Spyglass, a 6-foot vessel, and Cutlass, a 13-foot vessel, each outfitted with remotely updatable software and capable of carrying diverse payloads in communication-denied and GPS-denied environments. These systems enable real-time, collaborative, and autonomous mission-level decision-making, and are designed to navigate the challenges of maritime environments. Engineered as attritable systems, these vessels offer minimal life-cycle costs and considerable potential for scalability.
Saronic is a defense company with a dynamic blend of innovators, seasoned warfighters, and top-tier engineers and technologists from various fields, all dedicated to bringing autonomy to American and allied navies. This investment reflects a strong belief in the team's capability to rapidly provide autonomous solutions tailored to the modern naval landscape.