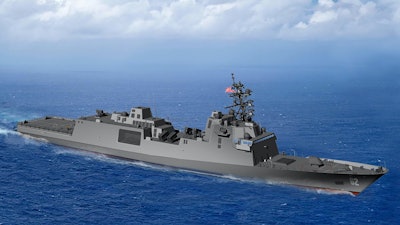 Fincantieri Marine Group
A Wisconsin shipyard is expected to add hundreds of jobs to build up to 10 new Navy frigates over the next 15 years.
The Defense Department last week awarded the contract for design and construction of the first FFG(X) guided-missile frigate to Marinette Marine for nearly $800 million. If all options in the contract are exercised, it would be worth more than $5.5 million, Pentagon officials said.
Marinette officials reportedly expect the contract to add 1,000 new jobs at the Marinette Marine shipyard, while Rep. Mike Gallagher, R-Wis., said more than 4,000 more indirect jobs could be created in the area.
"It has a multiplying effect, and all of these industries stand to gain a lot," Gallagher told the Green Bay Press-Gazette.
The FFG(X) is based on a vessel produced by Marinette Marine's parent, Italian shipbuilding giant Fincantieri, for the French and Italian navies. Company officials expect production to begin in two years — just as the shipyard's current work on littoral combat ships winds down.
Ultimately, the Navy could need up to 20 of the new frigates, Gallagher suggested.
A majority of the work on the ships will take place in Marinette, along the state's border with Michigan on the west coast of Green Bay. Sites in nine other states and Washington D.C. — as well as in nearby Sturgeon Bay, Wis. — will also help produce the ships. The order is set to be completed by May 2035.
Marinette Mayor Steve Genisot conceded that the announcement was a welcome respite amid the economic chaos caused by the COVID-19 pandemic.
"Not a day goes by that we don't talk about the pandemic and how to get these businesses back on track and open again," Genisot told the Press-Gazette.