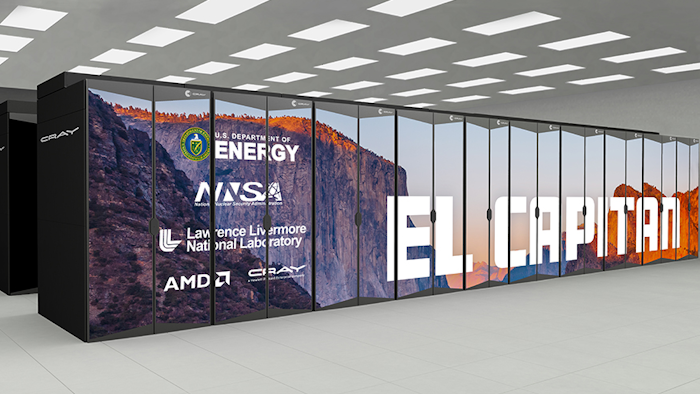 Hewlett Packard Enterprise
The federal lab charged with overseeing the nation's nuclear weapons stockpile expects to deploy what will be the world's fastest supercomputer in about three years' time.
The National Nuclear Security Administration last year signed a $600 million contract with Hewlett Packard Enterprise subsidiary Cray to build "El Capitan," the agency's first exascale supercomputer. HPE said this month that the system would be able to reach peak speeds of 2 exaflops — or 2 quintillion floating point operations per second — which would be 10 times faster than today's most powerful supercomputer.
The details were included in an announcement from Lawrence Livermore National Laboratory and HPE that semiconductor maker Advanced Micro Devices would provide the next-generation processors, GPUs and software for El Capitan. The NNSA's labs — Livermore, Los Alamos and Sandia — will use the new supercomputer to run increasingly complex predictive models and simulations for its Life Extension Programs, which the agency uses to combat emerging threats and aging weapons instead of underground testing.
The system is expected to be fully deployed at the Livermore National Lab in California in early 2023.
Researchers said the supercomputer's artificial intelligence and machine learning-assisted data analysis capabilities would provide faster, more accurate and more predictable scientific models. HPE technologies, company officials said, would allow large calculations across many nodes as well as higher data transmission.
In addition to analyzing the nuclear stockpile, El Capitan will be able to conduct nuclear nonproliferation and counterterrorism missions, and HPE and Livermore scientists said supercomputing techniques are already addressing other projects, including climate modeling and cancer research.
"The computing power and capabilities of this system represent a new era of innovation that will unlock solutions to society's most complex issues and answer questions we never thought were possible," Peter Ungaro, HPE's general manager of High Performance Computing and Mission Critical Systems, said in a statement.