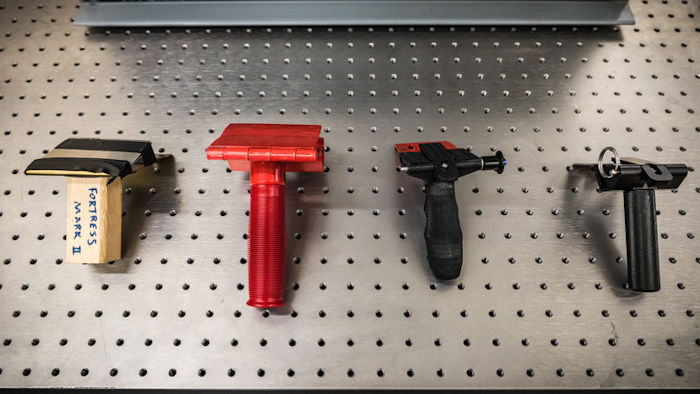 U.S. Air Force photo/Richard Eldridge
Less than four months after a deadly mass shooting in Dayton, Ohio, an engineer at a nearby Air Force lab detailed a portable device that could provide stronger barriers in future attacks.

The Dayton Daily News this week spoke with Matt Srnoyachki, the founder of S9 Engineering in Dayton and a contractor at the Air Force Research Laboratory at Wright-Patterson Air Force Base. Srnoyachki is the co-inventor of the "Fortress," a small, hand-held metal tool that — when locked in place between a door and its frame — prevents intruders from pushing doors open.

He suggested that, at a minimum, the Fortress would provide those hiding during an attack with precious additional minutes for law enforcement to respond.

"These are very time-critical situations," Srnoyachki told the Daily News. "And unless there's a motive behind the assailant, then he's going to try to get into the door for a moment. Then, if he can't really get in, he's going to keep moving."

The engineering team has completed a commercial patent application and was selected for a 2019 Defense Innovation Award last month.

Despite the proximity to this summer's attack in Dayton, the threat of mass shootings in the U.S., of course, is not a new phenomenon. Srnoyachki indicated the team has worked on active-threat research since 2015.

The shooting in the city's popular Oregon neighborhood killed nine and injured 27, before the attacker was killed by police, early in the morning of Aug. 4. A friend of the gunman who purchased ammunition and body armor was expected to plead guilty in an ongoing case this week.