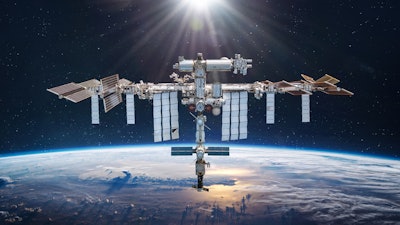 iStock
From research on microbes to studies on brain organoids, a new pharmaceutical lab, and the role of mucus in medication delivery, several payloads launching on SpaceX's 29th Commercial Resupply Services mission to the International Space Station (ISS) aim to prevent or treat disease. The mission, contracted by NASA, is scheduled to launch no earlier than 10:01 p.m. EST on November 5, 2023, with more than 25 payloads sponsored by the ISS National Laboratory.
Below highlights some of the payloads sponsored by the ISS National Lab that aim to bring value to humanity and foster commerce in low Earth orbit:
An investigation from the Naval Research Laboratory will examine how microgravity affects the behavior of microbes in producing melanin. The team will examine how microgravity and cosmic radiation may lead to new melanin variants that could be used to produce new biomaterials with applications both on Earth and in space.
Boeing will test an antimicrobial polymer surface coating against microbes in multiple locations on the ISS. Results may provide insights to mitigate the risk of infection on future space missions and space platforms.
The U.S. National Science Foundation (NSF) continues its collaboration with the ISS National Lab by funding two biotechnology investigations on this mission. A research team from the University of California, Santa Barbara aims to leverage microgravity to understand the how mucus that lines the human airway affects the delivery of medication to the lungs. The team will use gel-coated tubes to study the role of mucus in the transport of liquid plugs through the airway. Results from this investigation could improve modeling of drug delivery for treatments such as surfactant replacement therapy (a treatment for infants with respiratory distress syndrome). Researchers at the University of California, San Francisco aim to utilize 3D-immune-liver tissue chips in space to better understand the relationship between immune system aging and the ability of liver cells to regenerate. The research team will then look for possible ways to slow the aging process and enhance the liver healing process for patients on Earth.
An investigation from the University of California, San Diego, which builds on previous space station research, will explore microgravity's effects on stem-cell derived brain organoids. Organoids are three-dimensional cellular models that represent aspects of the human brain. This investigation aims to study accelerated aging in space to understand how cognitive decline happens in the human brain. Results could provide a better understanding of the mechanisms behind late-onset neurological conditions like dementia and Alzheimer's and potentially lead to new treatments.
Redwire Space, a leader in the development of space-based facilities, will launch initial elements associated with its Pharmaceutical In-space Laboratory, a platform to crystallize small organic molecules in microgravity. Redwire aims to validate the system's capabilities by performing multiple protein crystal growth experiments. In the absence of gravity, crystals can grow larger and more uniformly, which could lead to improved therapeutics for patients. Once fully operational, this facility will be available to the life science community for future investigations.