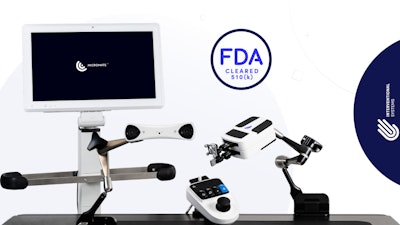 Interventional Systems
Interventional Systems announced that Micromate has been granted a new 510(k) clearance, allowing the commercial sale of the robotic system in the United States for percutaneous procedures using CT optical navigation, such as biopsies and ablations, to diagnose and treat conditions in the chest, abdomen, and musculoskeletal structures.
This latest FDA clearance further expands the scope of Micromate, which has been available in the US since 2021 for any percutaneous needle intervention performed under live imaging using Cone-Beam Computed Tomography (CBCT), Fluoro CT, or a Fluoroscope. The miniature robot was also cleared for integration into third-party navigation stations.
"This clearance is a long-awaited milestone for us, and it allows us to meet the growing demand for our system in the US. We are already in the process of executing the first installations overseas, bringing the benefits of our robotic platform to US patients. We designed Micromate™ for versatile use within the scope of work of any IR/IO specialist, and we expect it to help hospitals gain efficiency in an era where both demand for precision and staff shortages are pressing concerns," said CEO Pedro Costa.