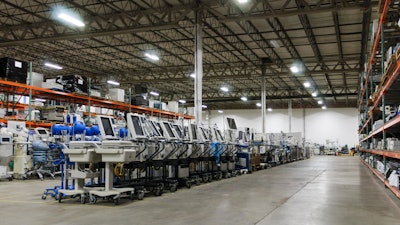 GE HealthCare
GE HealthCare and reLink Medical today announced a collaboration to deliver asset management solutions to healthcare providers to help reduce medical device waste, increase operational efficiency and maximize their equipment utilization. This collaboration features a standardized medical equipment disposition solution involving selling, recycling or donating equipment that is no longer needed.
Each year, healthcare providers retire approximately ten percent of their medical assets from use. Attempting to manage medical device waste independently can often require staff time and create cumbersome processes filled with hidden costs. As providers continue to face cost pressures from the COVID-19 pandemic, managing budgets and uncovering cost savings is a priority.
"A potential and often overlooked source of expense for providers is medical device waste, which includes aging, or end-of-life, medical devices that sit idle in a healthcare provider's inventory," said Mohamed El-Demerdash, President, U.S. & Canada Service, GE HealthCare. "With this collaboration, GE HealthCare will help healthcare providers manage their clinical devices for the full lifecycle of their equipment, a true wing-to-wing solution, from capital planning and purchasing to maintenance and final disposition of the equipment."
When the disposition solution entails selling the medical equipment, a percentage of the revenue from that sale is returned to the healthcare provider in the form of credits that they can use to purchase equipment or parts, invest in training for their technicians and engineers, purchase On-Demand services including deinstallations or specific hospital modernization projects, or redeem the revenue via a wire transfer or check from reLink Medical.
Sustainability is an important consideration for the management of end-of-life equipment. More than six million pounds of medical waste are kept out of landfills each year through reLink Medical's processes. This collaboration between GE HealthCare and reLink Medical is aimed at supporting healthcare providers in disposing medical equipment in a safe, compliant and environmentally responsible manner and it further advances GE HealthCare and reLink Medical's commitment to sustainability.
In addition to managing the disposition of end-of-life medical devices, as part of this collaboration GE HealthCare and reLink Medical can transport equipment for redeployment between clinical sites and provide long-term storage of equipment for healthcare providers at offsite locations through a smart warehouse solution.
This solution will manage logistics to simplify pick up of medical devices from a healthcare provider's site and catalog every device so providers have a clear understanding of where their assets are located, helping to ensure they have the medical equipment they need without bearing the burden of storing and managing surplus inventory.
"This collaboration signifies a significant step forward in revolutionizing asset management solutions and empowering healthcare organizations with the tools and technologies needed to optimize their equipment utilization," said Jeff Dalton, CEO, reLink Medical. "It leverages reLink Medical's expertise in equipment disposition, surplus management and inventory optimization to complement GE HealthCare's comprehensive suite of healthcare solutions."