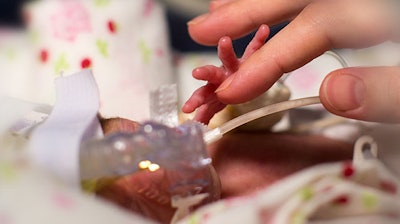 Abbott
Abbott announced three-year data showing the positive impact of the Amplatzer Piccolo Occluder on treating babies (some weighing as little as two pounds) with a potentially life-threatening hole in the heart known as a patent ductus arteriosus (PDA).
The Amplatzer Piccolo device is smaller than a pea and the company said it's the world's first and only minimally invasive, transcatheter treatment approved to close a PDA in premature infants with this common congenital heart defect.
The latest data were presented at the Pediatric and Congenital Interventional Cardiovascular Society Symposium, held in Chicago from September 7-10, 2022.
A PDA is an opening between two blood vessels in an infant's heart that fails to close as it should following birth. Before a baby is born, this channel allows blood to bypass the not-yet-functioning lungs because the fetus gets oxygen-rich blood from the mother. If the hole remains open after birth, it changes the flow pattern so additional blood is directed to the lungs, making it difficult for babies to breathe normally. Prior to the development of Abbott's minimally invasive Piccolo closure device, physicians and families often had to decide between placing a baby on respiratory support to see if the defect sealed on its own or conducting a risky surgical procedure to close the PDA.
The Amplatzer Piccolo is a self-expanding, wire mesh device that is inserted through a small incision in the leg and guided through vessels to the heart, where it's placed to seal the PDA. As a minimally invasive procedure, many of the premature babies who are critically ill in the neonatal intensive care unit can be weaned from artificial respirator support soon after the device is implanted. The U.S. Food and Drug Administration approved the Amplatzer Piccolo Occluder in 2019.