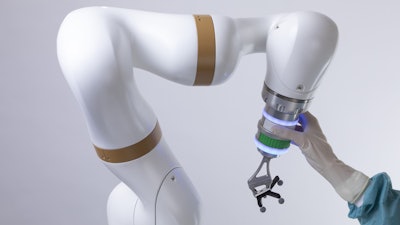 eCential Robotics
eCential Robotics, a French MedTech company that designs and produces a system unifying 2D/3D imaging, surgical navigation and robotics, today announced FDA 510(k) clearance of its 3D imaging, navigation and robotics guidance system.
After having recently concluded partnership with U.S. implant companies, eCential Robotics aims from now on access to the North American market.
Created in 2009 by Stéphane Lavallée, president and chairman, eCential Robotics' goal is to reinforce the safety and accuracy of surgical procedures. With the objective of enabling surgeons to operate in a reliable and simple environment for the best benefit of patients, eCential Robotics has concentrated its development on a unique and innovative concept: focusing surgical workflows on the essential to make robotic-assisted bone surgery simple enough in clinical routine that it becomes a standard of care. eCential Robotics welcomes implant companies to create specific apps for multiple indications in notably spine, cranial, traumatology, orthopaedics, sports medicine.
"The FDA clearance of the eCential Robotics unified platform recognizes reliability and robustness of our product, confirms the confidence in eCential Robotics' unique concept of focusing surgical workflows on the essential via a unified, open and multi-app system, and also encourages our ambition to expand our footprint in the United States", said Mrs. Laurence Chabanas, eCential Robotics Chief Strategy Officer and USA CEO. "This 510(k) is fundamental to our strategy. We are excited about these bold new and disruptive technologies and the role that eCential Robotics can play in reshaping bone surgical procedures and restoring patients' quality of life," she added.