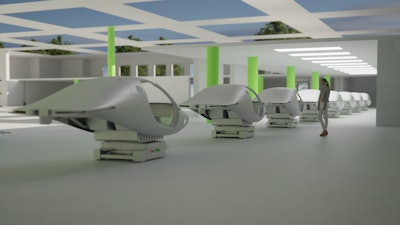 Aptera
Aptera and RedViking announced a new supply agreement for all AGVs (automated guided vehicles) for Aptera's final vehicle assembly. This supply agreement represents significant step forward as Aptera scales to the final production stage.
RedViking's AGV mobile production platform is versatile, flexible, expandable, and can be easily relocated. There are no building modifications required, allowing changes to happen quickly with a clean, flat floor and quiet environment. Charging of the AGVs occurs when the vehicles are stationary, allowing them to charge while work is completed.
This AGV technology will enable Aptera to expand its efficiency-first ethos to the manufacturing cycle. With this partnership in place, Aptera remains confident in meeting its pre-production and production timelines.
"At Aptera, we are reinventing transportation– going where no other automaker has gone before. Likewise, RedViking is innovating beyond the status quo, ushering in Manufacturing 4.0. We are proud to partner with a like-minded company as we push past what others deem impossible," said Chris Anthony, Aptera Co-CEO.
"For well over 30 years, RedViking has been a leader in advancing industrial technology solutions. Perhaps more important than the solutions themselves are the partnerships we've established as a result. The synergies between RedViking and Aptera align flawlessly and will produce a first of its kind manufacturing process. As Aptera's innovative product strategy to clean energy transportation unfolds, we look forward to expanding our partnership in the years to come," said Josh McNeely, RedViking Chief Commercial Officer