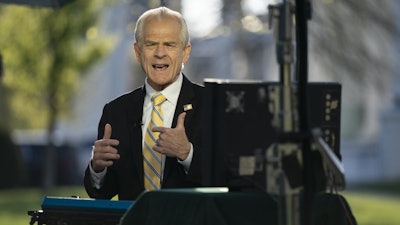 AP Photo/Evan Vucci
A Trump administration official said over the weekend that the White House wants another round of economic stimulus legislation that would be primarily targeted at manufacturers.
Peter Navarro, the White House trade adviser, told CNN Saturday that the administration hopes a fourth phase of recovery legislation following the COVID-19 outbreak and subsequent recession would be "at least $2 trillion." He added that directing the funding to manufacturing companies would help overcome "structural headwinds" in industries devastated by the pandemic, including the hospitality, entertainment and transportation sectors.
"Put simply, we need to create more manufacturing jobs," Navarro told the network.
Navarro also indicated the package could include incentives that would encourage American companies to return their overseas operations to the U.S. — a plan that critics warn could run afoul of international trade rules.
Congress previously approved some $3 trillion in an effort to help individuals and businesses as the coronavirus prompted a virtual shutdown of many segments of the economy, but leaders are split on the next round of aid. The Democratic-led House, citing skyrocketing unemployment and the continued threat of the virus, approved another $3 trillion package last month that featured more direct payments to Americans and relief for state and local governments.
The Republican leaders in the Senate, however, declared that measure dead-on-arrival and called for a "pause" on further assistance. Senate Majority Leader Mitch McConnell, R-Ky., indicated that chamber would likely take up another relief measure at some point.
Navarro told CNN that although the Senate GOP would likely favor a smaller relief package than the White House proposal, any deal would need to be struck and passed by Congress' August recess.
His remarks came days after Treasury Secretary Steven Mnuchin refused to reveal the names of businesses that received billions in taxpayer-funded loans under an earlier relief bill.