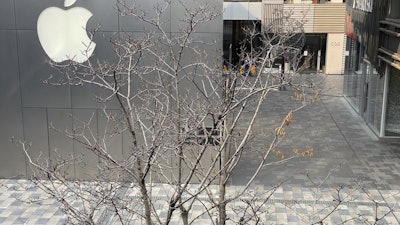 AP Photo/Ng Han Guan
Apple is reportedly encouraging one of its manufacturing partners in China to mount a challenge to Foxconn, long the tech giant's top supplier.
Nikkei Asian Review, citing sources familiar with the matter, indicated that Apple hopes Luxshare-ICT will make "a major investment" in Catcher Technology. The proposed deal between two existing Apple suppliers would give Luxshare, the rapidly growing Chinese maker of its AirPod wireless earbuds, access to Taiwan-based Catcher's electronics case operations and smartphone assembly expertise.
More importantly, it would establish an Apple supplier in China with similar capabilities across the electronics supply chain as Foxconn, the Taiwanese electronics giant that produces more than half of the company's iPhones. The Nikkei reported that Apple executives hope to reduce the company's reliance on Foxconn and spur more competition — and gain leverage — among its suppliers.
A Chinese rival to Foxconn, one analyst added, would provide similar quality at lower prices, as well as deepen Apple's ties to the world's largest country and mobile device market.
Another source, meanwhile, told the Nikkei that Luxshare, if it completes the deal and secures support from Apple and investors, could overtake Foxconn as Apple's top supplier as soon as "the next three years or so."
Although Apple is pushing Luxshare to make the investment, sources characterized it as a significant gamble in light of the recent global economic downturn and a stagnant global smartphone market.
Foxconn, although based outside Taipei, houses most of its production in China, where it is resuming production after halting operations amid the coronavirus outbreak.
Apple has also reportedly held discussions with another supplier, Taiwan Semiconductor Manufacturing Co., about potentially establishing a new chip plant in the U.S.