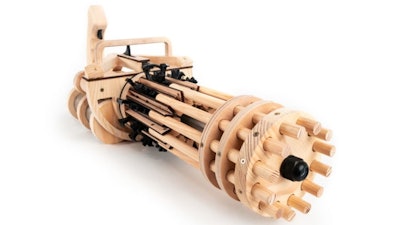 Weaponized T-Rex
Weaponized T-Rex is a design firm out of Minneapolis, MN.
The team's most recent project is a Rubber Band Minigun made out of wood.
The minigun debuted on Kickstarter, and while the team had an initial goal of $10,000, the campaign has already raised more than $60,000 from 603 different backers.
According to Weaponized T-Rex, the fully automatic minigun is made from CNC-cut wood, and can shoot 144 rubber bands.
The minigun is available pre-assembled or, for the patient, as a 70-part kit . According to the company, the kit takes up to two hours to assemble.
The minigun is powered by an electric motor that can be charged in a matter of minutes, but the biggest selling point is how easy it is to reload -- after all, reloading 144 rubber bands can be time consuming.
The first prototype was created in January 2019 and the team hopes to begin production this month, with orders set to ship in January 2020.
A few "Super Early Bird" spots are still available. The kit version is available with a pledge of $94, and the assembled version is available starting at $99.
Kickstarter is a crowdfunding websites that entrepreneurs and established businesses use to raise funds. The website works as a way to conduct market research and garner pre-orders before testing the retail market.
Unlike other crowdfunding websites, companies only receive funds if/when the campaign's goal is reached.