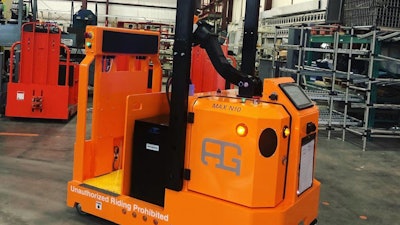 AutoGuide Mobile Robots (Instagram)
Testing and automation company Teradyne will pay $165 million to acquire industrial robot maker AutoGuide, the Massachusetts companies announced this week.

AutoGuide makes autonomous robots capable of transporting up to 10,000 pounds in manufacturing and logistics facilities, as well as fleet management software. Teradyne officials noted that AutoGuide customers include Ford and Husqvarna, and that the company's revenue is expected to double from 2018 to 2019.

Teradyne also said the acquisition would complement its existing autonomous robots, which are designed for low and mid-payloads.

"AutoGuide, like Universal Robots and MiR, is using emerging smart, cost-effective technologies in industrial robotics to improve workflows and reduce operating costs in a broad spectrum of industries," Teradyne CEO Mark Jagiela said in a statement.

The deal includes $58 million net of cash acquired, plus $107 million if certain performance targets are met.

AutoGuide, like Teradyne, is headquartered in suburban Boston, but its robots are made in Kentucky under its partnership with Heartland Automation.