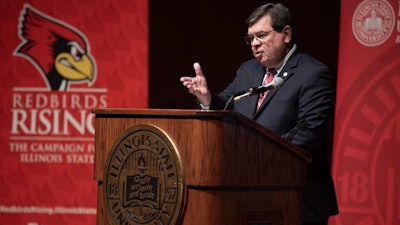 Illinois State University (Instagram)
Illinois State University officials hope to help address a shortage of engineers in the surrounding area by adding a pair of new degree programs.

University President Larry Dietz, speaking at an education and workforce conference on Thursday, discussed the possible formation of mechanical and electrical engineering programs at the central Illinois campus, according to WGLT-FM.

University officials have reportedly floated adding those degrees for years, but the station noted ISU's Academic Senate recently advanced plans for a $100 million engineering building. University trustees were slated to consider sending the request to state officials late last week.

Documents related to the funding request reportedly suggested that as many as 1,000 students could be enrolled in the new programs.

Illinois State currently offers engineering technology and engineering physics degrees, but proponents of the new programs argue they would accommodate more prospective engineers from Illinois high schools. The state, like many areas, faces a shortage of highly skilled workers, and the crunch appears likely to be particularly pronounced near ISU's Normal campus, where electric truck startup Rivian is setting up shop in a former Mitsubishi auto plant.

There is no timetable for when the state could OK a campus funding request, or for when the new programs could start. WGLT noted that campus forums on the proposed degrees are scheduled for the upcoming spring semester.