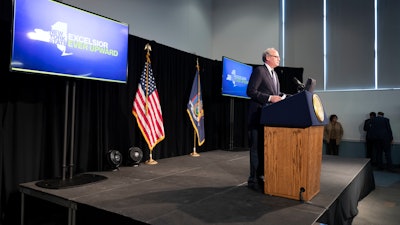 Mike Groll/Office of Governor Andrew M. Cuomo
Lighting and electronics manufacturer Cree will spend $1 billion to establish what will be the world's largest fabrication facility for silicon carbide semiconductor materials.
The forthcoming "North Fab" facility near Utica, N.Y., is part of a previously announced expansion of the company's Wolfspeed electronics business. The 480,000-square-foot complex will house highly automated production systems to turn out 200-millimeter wafers for power and radio frequency devices.
New York officials said the agreement with the company would create more than 600 jobs in Marcy, N.Y., as well as establish a $10 million high-tech research and development initiative in the state. Cree committed $30 million in R&D spending as part of the agreement, Gov. Andrew Cuomo's office said.
Cree is also currently expanding existing facilities at its Durham, N.C., headquarters into a silicon carbide materials "mega factory." Company officials said the material will be vital to powering next-generation technologies, including electric vehicles and faster 5G wireless networks.
"We look forward to connecting our North Carolina and New York innovation hubs to drive the accelerated adoption of silicon carbide," CEO Gregg Lowe said in a statement.
New York state will provide a $500 million grant to support the project, and Cree could receive additional assistance from local governments and the State University of New York system. The company said its agreement with state would save about $280 million in capital expenditures and enable future expansion of the factory.