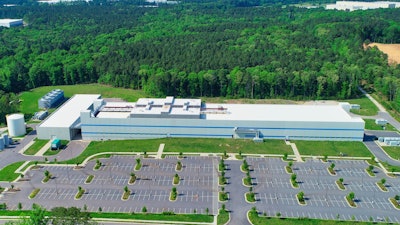 Business Wire
Lighting and electronics maker Cree on Tuesday announced plans to invest up to $1 billion to bolster its semiconductor operations in coming years.

The company plans to overhaul and expand existing facilities at its Durham, N.C., headquarters into a silicon carbide materials "mega factory" and a fabrication plant for 200-millimeter silicon carbide wafers.

The project will expand its capacity to produce both materials and wafers 30-fold. The fabrication facility, in particular, will provide highly automated production of wafers for the power and radio frequency markets.

The announcement represents Cree's largest investment to date in its Wolfspeed electronics business, officials said, and will support a broader transition from silicon to silicon carbide and meet rapidly advancing industrial, automotive and communications technologies.

"These silicon carbide manufacturing mega-hubs will accelerate the innovation of today's fastest growing markets by producing solutions that help extend the range and reduce the charge times for electric vehicles, as well as support the rollout of 5G networks around the world," Cree CEO Gregg Lowe said in a statement.

Both projects are expected to cost about $450 million, and Cree plans additional investments totaling $100 million. Lowe estimated that revamping existing facilities and equipment would deliver sophisticated manufacturing space at about one-third the cost of entirely new construction.

The expansion is scheduled to be completed in 2024, and the company hopes to partner with local community and four-year colleges to train advanced manufacturing workers to staff the facilities.