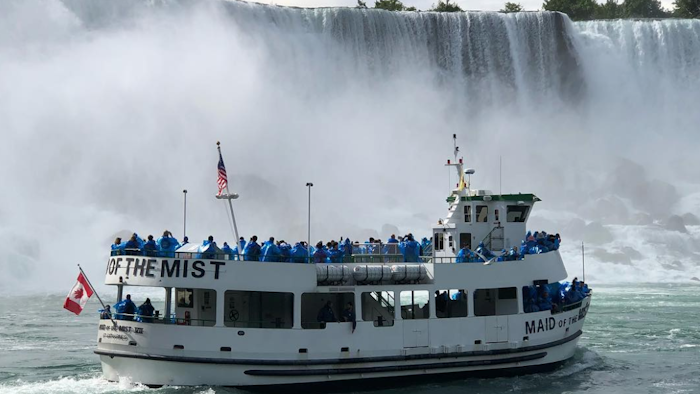 Niagara Falls Boat Rides & Trips/Maid of the Mist (Instagram)
The first electric passenger boats to be built in the U.S. are scheduled to begin making one of the world's most unique maritime voyages later this year.

New York Gov. Andrew Cuomo announced Friday that the two all-electric vessels will replace the sixth and seventh generation of the Maid of the Mist, which has ferried onlookers to the waters below Niagara Falls for nearly 175 years.

The catamarans, designed by Propulsion Data Systems, feature an integrated power and propulsion system from Swiss automation giant ABB. The vessels, officials said, will recharge their lithium ion battery packs for seven minutes — to 80 percent capacity — between each journey at an onshore charging station.

"Maid of the Mist's decisive move towards e-mobility signals a new era in the future of transportation and complements ABB's commitment to power the world without consuming the earth," Peter Terwiesch, ABB's president of industrial automation, said in a statement.

New York officials said the new boats would eliminate engine noise and exhaust fumes for the approximately 1.6 million annual passengers on the Maid of the Mist VI and VII. Those boats, which debuted in 1990 and 1997, respectively, will be retired as the electric vessels enter service in mid-September.

The vessels, built by Burger Boat Co. in Manitowoc, Wis., are expected to be delivered to New York later this month, where they will undergo final construction and certification.

"These new vessels delivering a superior visitor experience while expanding the sustainable practices we need to adopt to protect the natural assets that draw visitors to Niagara Falls and parks across the state," Erik Kulleseid, the state's acting parks commissioner, said in the announcement.