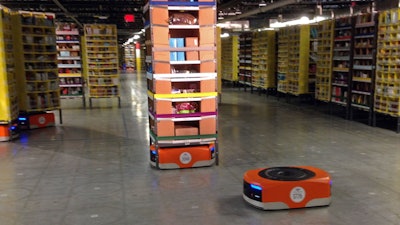 Brandon Bailey/Associated Press
An incident involving one of Amazon's warehouse robots resulted in the hospitalization of 24 workers at a New Jersey distribution center on Wednesday.
Robbinsville Township officials told ABC News that an automated machine accidentally punctured a 9-ounce can of bear repellent spray, exposing dozens of workers in one wing of the warehouse to concentrated Capsaican, the primary ingredient in pepper spray.
Although one of the workers was hospitalized in critical condition, reports expected all the affected employees to be released within 24 hours. Another 30 employees were treated at the scene.
Amazon, which invested heavily in robotics in an effort to bolster efficiency and cut costs at its massive distribution centers, told the network that the safety of its employees "is our top priority" and said "a full investigation is already underway."
But the Retail, Wholesale and Department Store Union — a frequent critic of non-unionized Amazon — suggested that one of the world's richest companies was "putting profits over the health and safety of their workers."
"Amazon's automated robots put humans in life-threatening danger today, the effects of which could be catastrophic and the long-term effects for 80-plus workers are unknown," union president Stuart Appelbaum said in a statement.