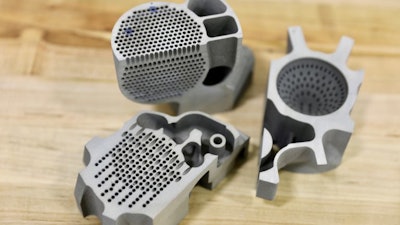 Tomas Kellner for GE Reports
GE's embrace of 3D printing — and its insistence on collaboration between its engineers and technical staff — has resulted in a unique facility able to trim the number of parts in a new aircraft engine by more than 70-fold.

The company last month provided an overview of the work going on in an otherwise nondescript warehouse in suburban Cincinnati, home to the GE Additive Technology Center.

Built in a former Dell Computers warehouse following several GE acquisitions in the 3D printing sector — including Cincinnati-based pioneer Morris Technologies — the ATC, officials said, could now be the largest, most advanced facility of its kind.

The complex, which is about the size of three football fields, houses 90 3D printers and 300 workers developing a wide range of components, including parts for the GE9X jet engine and GE Catalyst turboprop engine for GE Aviation. The latter, in particular, saw its component parts drop from 855 to just 12 thanks to 3D printing technology.

The techniques pioneered in Ohio, in turn, can be easily transferred to two other GE additive manufacturing facilities in Alabama and Italy. The Auburn, Ala., plant, for example, now produces a more cost-effective engine bracket through 3D printing.

"A lot of the things we do here, we are doing for the very first time," GE Aviation's Eric Gatlin said in the article.

In addition to the scale of the building and advances in 3D printing technology, company officials credited a floor plan that enabled everyone involved in the process — from powder specialists to engineers to technicians — to be able to easily talk to one another. The printers are located on the perimeter of the complex and surround a large, octagon-shaped office complex.

"We wanted to create a learning environment because there's no playbook for this," Gatlin said.

The ATC staff, to date, has identified at least 100 additional components that could translate to its 3D printers.