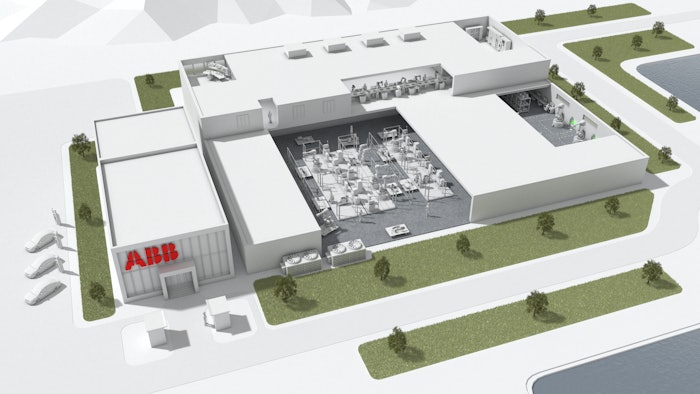 ABB
Swiss automation giant ABB plans to spend $150 million to build what it called "the world's most advanced, automated and flexible robotics factory" near its existing robotics campus in China.

Company officials said the new Kangqiao manufacturing center in Shanghai would combine its digital technology, collaborative robotics and artificial intelligence capabilities into a sophisticated, sustainable "factory of the future" where "robots make robots."

"The concept behind this factory is the same advice we give our customers every day: invest in automation solutions that provide flexibility and agility to grow in whichever direction the market goes," Sami Atiya, the president of ABB's Robotics and Motion division, said in a statement.

ABB said the factory floor would feature "islands" of automation instead of fixed assembly lines. Parts would be supplied by automated vehicles trailing robots through the production process, and the company's safety software and YuMi robots would enable close collaboration with factory workers during small-parts assembly.

The new complex, expected to begin operations in 2020, will also include an in-house R&D facility for AI research. ABB touted the new factory as a major expansion of its operations in China — the world's largest market for industrial robots.

"Its strategic embrace of the latest technologies for artificial intelligence, advanced robotics and cloud-based computing present a playbook for every country that wishes to have a globally competitive manufacturing base," said ABB CEO Ulrich Spiesshofer.

The company also signed an agreement with Shanghai government officials to support regional industries.