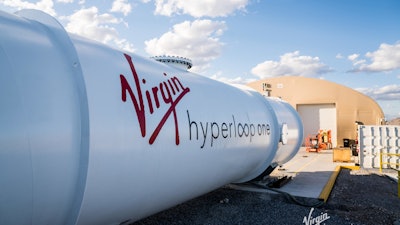 Virgin Hyperloop One
One of several companies hoping to build "hyperloop" high-speed transit systems this week touted a report that evaluated a potential route through Missouri.
Virgin Hyperloop One said an independent feasibility study from engineering firm Black & Veatch verified the "favorable safety and sustainability opportunities" of a route along the Interstate 70 corridor between Kansas City and St. Louis.
Rob Lloyd, Virgin Hyperloop One's chief executive, said the analysis was the first step in "actualization of a full-scale commercial hyperloop system, both for passengers and cargo."
A hyperloop, first proposed by Tesla and SpaceX CEO Elon Musk in a 2013 paper, would use magnets or electronic pulses to autonomously float passenger pods through a low-pressure tunnel at near-supersonic speeds.
Proponents argue the system would offer fast, energy-efficient regional transit, and numerous companies have sought to move forward with hyperloop projects both in the U.S. and around the world. Virgin Hyperloop One spokesman Ryan Kelly told reporters that the company hopes to begin working on routes within 10 years.
Virgin Hyperloop One's Missouri proposal would connect the 250-mile span from Kansas City to Columbia to St. Louis — a relatively straight, flat stretch that could pose few eminent domain challenges compared to other proposed U.S. routes.
Black & Veatch officials said the firm examined numerous potential headaches, from regulations and rights-of-way issues to station locations and social ramifications. The report was not released publicly, reports said, due to the company's concerns about its intellectual property.
The study said a hyperloop could cut travel time between Kansas City and St. Louis to less than half an hour compared to the 3.5 hours required to make the trip in a car. Trips to Columbia from either city, meanwhile, could be completed in as little as 15 minutes.
The firm also said the cost to passengers could be lower than the price of gas needed to make those trips. The project itself carries a potential price tag of $7.5 billion to $10 billion, the St. Louis Post-Dispatch reported, but the companies said that represented less than half the cost of conventional high-speed rail systems.
Savings from reduced highway travel and fewer traffic accidents, meanwhile, would amount to about $500 million annually.
Black & Veatch also suggested the system could transport more than 50,000 daily passengers.
"We found this project is a case of solid engineering meeting up with Virgin Hyperloop One's innovative vision to create a network transforming the very concept of community," Steve Edward, the suburban Kansas City firm's CEO, said in a statement.