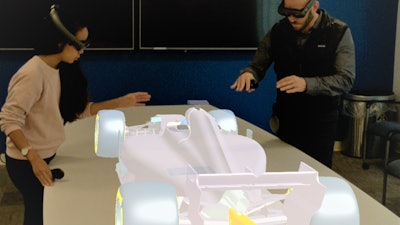 Onshape Inc.
CAD system developer Onshape this week announced a partnership with a virtual reality startup to bring life-size simulated designs "into the real world."
The Massachusetts company outlined plans for a 3D product design app at a Magic Leap conference in Los Angeles. Florida-based Magic Leap began selling its mixed-reality headset, the Magic Leap One Creator Edition, earlier this year.
The device's augmented reality platform will enable engineers from around the world to collaborate on designs as if a prototype was sitting on a table in front of them. The virtual prototype could also be moved or rotated, and any changes made to the CAD models would be updated in real time.
"For more than a half-century, CAD users were confined to working on a flat screen," Onshape CEO Jon Hirschtick said in a statement. "The Magic Leap One will push product design into a whole new stratosphere."
The Magic Leap One debuted with a price tag of nearly $2,300, but Hirschtick insisted the technology would one day be "as natural as designing on laptops, phones and tablets," while enabling engineers to push creative boundaries and, ultimately, develop superior products.
"The spatial computing universe has the potential to transform every industry," added Magic Leap CEO Rony Abovitz.