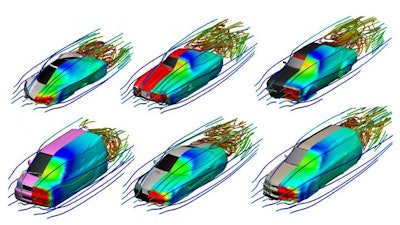 Nobuyuki Umetani
A newly developed machine learning process could help engineers test the aerodynamic properties of prospective designs much more quickly.

Researchers from the Institute of Science and Technology Austria said using machine learning to model flows around an object, such as a potential vehicle or aircraft, proved difficult in the past because models in three dimensions can dramatically alter the arrangement of input and output data.

The research team, however, developed a machine learning tool that crafted 3D models from larger cube-shaped components according to a strict process — which ensured the component shapes would retain similar data profiles for the tool to interpret.

As a result, researchers said the first-of-its-kind tool makes air streamlines and parameters available in real-time. Designers could then forego otherwise complex computer modeling that can take hours or days.

"When simulations are made in the classical way, the results for each tested shape are eventually thrown away after the computation," said Nobuyuki Umetani, a former Autodesk researcher — now at the University of Tokyo — who worked with IST's Bernd Bickel on the project.

"This means that every new computation starts from scratch. With machine learning, we make use of the data from previous calculations, and if we repeat a calculation, the accuracy increases."

The tool will be presented at this week's SIGGRAPH Conference in Vancouver.