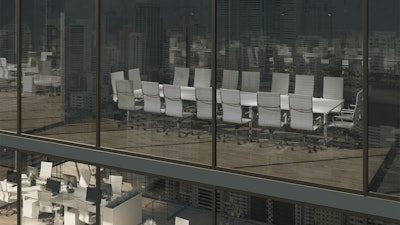 Click Materials Corp.
A major residential glass manufacturer hopes to introduce smart window technology to millions of households under a new product development partnership.
Click Materials, a startup based in Vancouver, B.C., this week announced the agreement with Cardinal Glass Industries, a Twin Cities-based window and door glass maker with 41 facilities throughout the U.S.
The companies said Click's novel spray coating technology enables uniform application of electrochromic film to glass at ambient temperatures — and cuts the cost of producing smart glass by more than half.
The lower cost would enable millions more households to install electrochromic windows, which allow homeowners to adjust the tint of the glass with a smart device or mobile app. Company officials said the technology offers significant energy savings and can improve residents' "mood and personal well-being."
Cardinal Glass believes the technology could "disrupt the electrochromic window industry in the residential market and beyond."
"Click is delivering innovative advancements to window technology that will truly transform the way we experience our connected homes in the future," said Curtis Berlinguette, Click's CEO and co-founder.
Terms of the agreement were not disclosed.