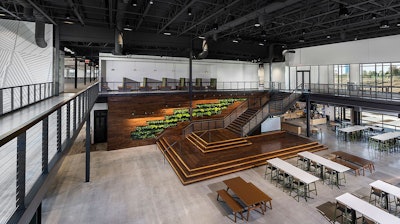 Deere and Co.
Farm equipment giant John Deere this month officially opened a new technology hub to develop and evaluate advanced agricultural systems.

The $33 million facility in Urbandale, Iowa, houses the company's Intelligent Solutions Group, which will advance Deere's existing efforts in sensor technologies, machine learning, computer vision, connected systems and robotics. The 134,000-square foot facility is reportedly expected to feature about 800 employees, including 30 new positions.

The ISG, which marked its 25th anniversary last year, kept some of the facility's more sensitive work off limits during a press tour last week. The Des Moines Register highlighted one effort, from newly acquired Deere subsidiary Blue River Technology, to develop a spraying system that can automatically differentiate crops from weeds.

"We're trying to develop and deploy technology that makes machines smarter, more precise and easier to use so farmers can be more productive, more profitable and more sustainable," John Stone, the group's senior vice president, told the paper.

Company officials said the facility offers collaborative workspaces — with an easily adjustable layout comprised of materials such as sustainable wood and recycled denim — as well as adjacent property that enables designers to test systems on farmland. The Front 40 Farm includes corn, cotton, oats, soybeans and sunflowers. which Deere officials said would help connect its tech workers to its customers.

The Urbandale campus also offers easy access to Deere manufacturing facilities in nearby Des Moines and elsewhere in Iowa, Illinois and Wisconsin.