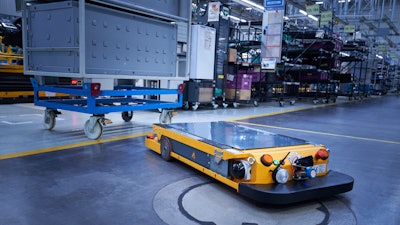 BMW Group
BMW and Microsoft this week announced a partnership to develop an open-source Industrial Internet of Things platform at the annual Hannover Messe trade show.

The German automaker and U.S. tech giant said the Open Manufacturing Platform ultimately aims to transition from complex, proprietary data systems used in most contemporary manufacturing to an era of open standards and data models.

The system, in turn, would lead to better collaboration across industries and promote faster and more cost-effective innovations in connected factories.

"Our commitment to building an open community will create new opportunities for collaboration across the entire manufacturing value chain," Scott Guthrie, the executive vice president of Microsoft's cloud and artificial intelligence group, said in a statement.

The OMP, hosted on Microsoft's Azure cloud platform, would provide participating manufacturers with reference architecture and open-source components, industrial standards and data models.

The latter, in particular, would enable new analytics and machine learning capabilities. Members would be able to take advantage of sample code and use cases to develop their own services while retaining control of their data, the companies said.

The two initial partners hope to recruit two to four additional partner companies and form an OMP Advisory Board by the end of the year. Organizers also aim to implement 15 use cases for select manufacturing environments by that deadline.

BMW officials said the company would contribute some of the initial cases, including a system to simplify logistics at a German factory currently working on autonomous systems. Future cases will likely include digital feedback loops, supply chain management and predictive maintenance.

"We want to make our solutions available to other companies and jointly leverage potential in order to secure our strong position in the market in the long term," BMW board member Oliver Zipse said in the statement.