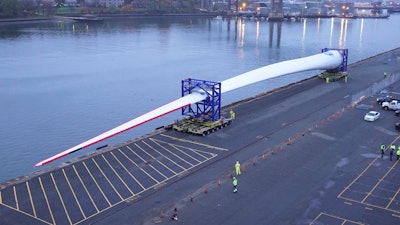 GE Renewable Energy
GE Renewable Energy and the Massachusetts Clean Energy Center (MassCEC) recently announced the arrival of a blade that is part of the most powerful offshore wind turbine in the industry at MassCEC's Wind Technology Testing Center (WTTC) in Boston.
The 107-meter blade will undergo a series of fatigue tests that involve moving it millions of times over the period of a few months to validate that it can withstand more than 25 years of operation at sea.
The testing is part of the process of commercializing GE's Haliade-X 12 MW turbine by 2021.
The WTTC offers a full suite of certification tests for turbine blade sections up to 90 meters in length. WTTC also offers the latest wind turbine blade testing and prototype development methodologies to help the wind industry deploy the next generation of offshore and land-based wind turbine technologies.
Since opening in 2011, WTTC has run 35 distinct blade testing programs entailing hundreds of individual blade tests. WTTC is an ISO/IEC 17025 accredited Laboratory and a RETL (Renewable Energy Testing Laboratory) per the IECRE rules and procedures to test wind turbine blades. The WTTC's technical team includes experienced blade test engineers and technicians.
On October 22, the U.S. Department of Energy announced a slate of awards to support wind energy research, development, and demonstration projects, which included a grant to MassCEC for equipment upgrades at the WTTC to enable structural testing of 85 to 120-meter long blades.
GE Renewable Energy recently announced that the company has been selected as the preferred turbine supplier by Ørsted and the owners of the Dogger Bank Wind Farm to provide the Haliade-X for 4.8 GWs of projects in the U.S. and the U.K.
The Haliade-X 12MW is a multi-million dollar investment that will help reduce offshore wind's cost of energy in order to make it a more competitive source of clean and renewable energy, with each Haliade-X turbine being capable of powering over 5,000 U.S. homes.
The global offshore wind market is projected to grow to 120GW by 2030 by the Global Wind Energy Council. Numerous U.S. states, including Massachusetts, have set ambitious offshore wind targets totaling nearly 20 GWs, leading the Special Initiative to estimate that there is a $70 billion supply chain opportunity associated with the new industry.