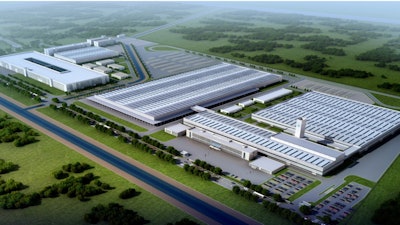 Kore Lithium Technologies Inc.
Battery systems company Kore Power plans to add more than 2,000 manufacturing jobs at a newly built U.S. battery plant, company officials announced Tuesday.

The company, based in Coeur d'Alene, Idaho, currently produces its Mark 1 energy storage system at a factory owned by Chinese parter Do-Fluoride Chemicals. Kore officials said the company plans to replicate that facility's automated assembly and processing at the new site.

Locations in several states with the required labor and logistics infrastructure to support the 1 million-square-foot plant are under consideration, officials noted.

The Mark 1, which utilizes NMC — or lithium nickel manganese cobalt oxide — cells, aims to reduce the installation and operating costs normally associated with larger energy storage systems, the company said. The new U.S. plant will feature 10 GWh of scalable capacity to help meet the needs of industrial customers.

"We are looking forward to selecting a location to construct a sustainable, state-side energy storage manufacturing plant — something we believe the U.S. market desperately needs," said Kore CEO Lindsay Gorrill.