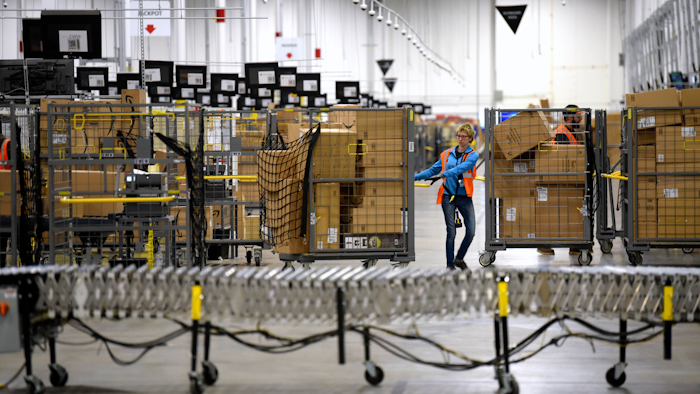 Todd McInturf/Detroit News via AP, File
A top Amazon software engineer said he resigned last week in response to the e-commerce giant's termination of workers who raised concerns about conditions in its warehouses amid the COVID-19 pandemic.
Tim Bray, who reportedly worked in Vancouver as a vice president and senior engineer for the company's Amazon Web Services cloud division, wrote in a blog post that remaining at the company would mean effectively "signing off on actions I despised."
"So I resigned," Bray wrote.
As consumers heeded government directives to stay home and practice social distancing in recent weeks, Amazon faced a surge in demand for essential products that could be delivered to shoppers' doorsteps. But the company also came under fire for the working conditions at its massive distribution centers during a viral outbreak.
A worker who organized a protest at Amazon's Staten Island facility was fired in late March, and two vocal critics of the company's coronavirus response and climate policies were fired in mid-April. Bray pointed to three other terminations, as well as threats made months earlier to organizers of an employee group that sought to influence the company's environmental practices.
Amazon has said it has "taken extreme measures to keep people safe" and argued the fired workers had violated company policies.
Bray, however, wrote that "it was clear to any reasonable observer that they were turfed for whistleblowing."
He noted he was "pretty blue" over his decision, which he argued would cost him more than $1 million in salary and stock, "not to mention the best job I've ever had." But he also said he's "breathing more freely" after resigning.
"At the end of the day, the big problem isn't the specifics of COVID-19 response," Bray wrote. "It's that Amazon treats the humans in the warehouses as fungible units of pick-and-pack potential. Only that's not just Amazon, it's how 21st century capitalism is done."
Amazon did not comment on Bray's resignation, according to Bloomberg.