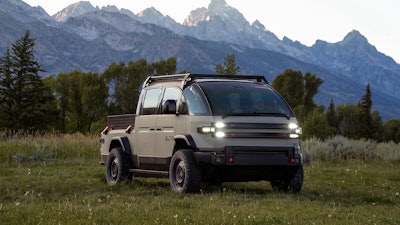 Canoo
EV automaker Canoo has provided a glimpse of its next vehicle, an electric quad-cab truck it's calling the American Bulldog.
The company is only providing a few details about the Bulldog. It will feature a strong, lightweight honeycomb design and the same steer-by-wire and brake-by-wire systems built into the company's cargo van.
Most Read on IEN:
Canoo called the vehicle a derivative of the light tactical vehicle (LTV) that was delivered to the U.S. Army for testing in 2022.
The LTV, which Canoo called the Screaming Eagle, incorporates carbon Kevlar for strength without adding too much weight. The company said like its cargo vans, the LTV is "designed for passenger ergonomics, taking body motion and height into consideration, as well as multi-tasker components."
Canoo designed the LTV to be converted from a pickup to a flatbed truck, a cargo vehicle and more. The modular attachment system allows users to more easily mount racks, ramps, storage boxes, tents or tactical systems.
While it's unclear what the American Bulldog has under the hood, the LTV it's based on provides up to 600 hp distributed to an all-wheel drive system. The LTV also incorporates air-springs, a raised suspension, and 32-inch all-terrain tires.
Canoo did not mention any timetable for the American Bulldog entering production but the company has been busy establishing its manufacturing operations in Oklahoma. In April, the company closed a deal on a 500,000-square-foot facility that gives it the ability to expand. The company expects to employ more than 500 people during the first phase of manufacturing.